Unlocking the Value of SAP Modern Services for Cloud Computing: Modern Workspace
It's no secret that the future of work is hybrid work. Employee expectations and behavior are changing, and work is no longer colocated — it's distributed.
Further, McKinsey research reports that 80% of people say they enjoy working from home, and 70% found that they were equally or more productive working in remote environments. The takeaway: to compete for top talent and maintain employee satisfaction, companies will need to offer options for remote or hybrid work.
As Gartner aptly put it: "Location-centric design is a relic of the past."
I discussed this idea of productive and innovative remote work environments, now commonly referred to as the modern workspace, in a recent webinar with my colleague (and Protera's VP of Solutions Architecture) Adam Mommersteeg.
This article is the third and final installment of a three-part series discussing key insights from the webinar. It will cover:
IT challenges related to launching the modern workspace
Why the modern workspace is an IT and people topic
How cloud computing powers productive modern workspaces
IT Challenges Around the Modern Workspace
For IT organizations within larger enterprises, the modern workspace presents new challenges related to data sharing, access, and security. After decades of working around the on-premise data center, companies are now dealing with data that needs to be distributed, integrated, and available in real time to employees potentially located all around the world.
Challenges to be met and addressed proactively to make the modern workspace possible include:
Facilitating collaboration and communication across remote environments
Providing secure access to corporate data
Enabling a shared digital workspace where employees can share successes
Balancing compliance and flexibility related to data access controls
Creating training opportunities and measuring employee results and engagement
It's up to CIOs and other IT leaders to understand and stay ahead of the IT challenges related to running a modern workspace, and work with their counterparts in other areas of the business to resolve them in ways that both maintain security and allow for operating flexibility.
Why the Modern Workspace Isn't Just an IT Topic
While the modern workspace hinges on IT capabilities and a mature IT organization, it's much more than a technology topic. As Adam put it in our recent webinar: "Modernization is a people conversation, too."
As we adopt these new technologies and move to this new way of working, training, upskilling, and finding new ways of managing as leaders will be critical. McKinsey reports that 87% of organizations report they're already experiencing skills gaps related to tech modernization or expect to experience one in the next few years.
The time is now for IT and other business leaders to collaborate on how to get employees up to speed and help them succeed in their new working environments.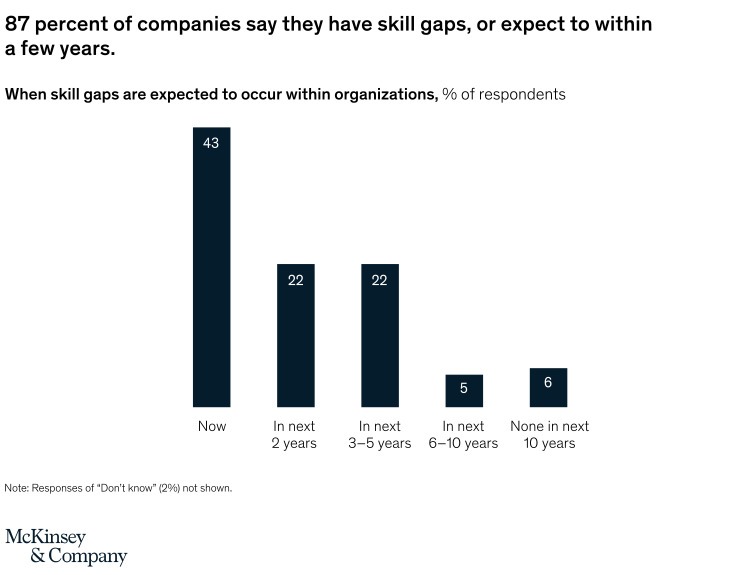 At the same time, it's essential to consider how modernization and the remote/decentralized nature of the workspace will impact external stakeholders — partners, clients, and the like.
They may also require updates on how to interact with your business, and your new ways of working may affect their overall experience. It behooves companies to collect ongoing feedback and monitor stakeholder satisfaction levels, taking continual action to meet changing needs.
How does cloud computing power the modern workspace?
The success of modern workspaces hinges on a few essential capabilities — shared digital environments, real-time data access, flexible IT security, and high levels of collaboration across remote teams.
None of the above would be possible without cloud computing.
In fact, many of the concerns traditionally associated with remote workspaces — like lack of communication, reduced data accessibility, siloed employees, and poor IT security — have been essentially eliminated by the power of the cloud.
The public cloud hosted by hyperscalers like AWS and Azure has made it possible for companies to facilitate more collaborative, accessible, agile, and secure work environments than is possible in a physical office. For example:
Employees no longer wait for weekly or monthly reports — they access data 24/7 and see real-time insights.
They no longer have to get up from a desk and hope to find their colleague in another office — they communicate instantly through digital channels.
Shared workspaces on the cloud enable constant sharing of important documents and information between colleagues and teams
Employees are actually better able to monitor work productivity and employee behavior without being intrusive or micromanaging
Professional development can be employee-led and happen through shared video trainings and other resources on the cloud
These are just a few examples, but the takeaway is this: Worrying about how well your business can run without a shared physical office space is simply an outdated take. When you move to the cloud and launch a modern work environment, you can hire top talent without the limitation of physical proximity. Your employees have greater access to resources and real-time data insights needed to make decisions. They're better able to collaborate and innovate across teams.
All of this while you as the CIO, IT leader, or other business executive have access to more data and insight about how your company runs on a daily basis so that you can continuously improve.
What's next?
The modern workspace is just one aspect of unlocking the full value of the cloud. For more insight, check out the other two blogs in this series:
Or check out the full webinar for access to full insights on these (and other) cloud topics.
Power Your Modern Workspace with Protera
Protera's SAP Managed Services can help you run SAP-related applications on AWS or Microsoft Azure with lower costs, higher quality, and greater agility to power your modern workspace.
We provide technical management of SAP applications, support agile development projects, and work to continually improve and optimize your SAP performance.
Schedule your virtual solutioning session to learn more about how Protera can help you transform.