Unlocking the Value of SAP: Cloud Migration and Modernization
The cloud has officially arrived — according to Gartner, 85% of organizations will operate using cloud-first principles by 2025 and 91% of workloads will be cloud native by the same year.
For Protera clients (and all SAP users), this has an additional element of timeliness as SAP has announced it will end maintenance for Business Suite by 2027, meaning enterprises will need to make the jump to S/4HANA within the next five years.
We know that the cloud is top-of-mind for our own clients and for enterprise organizations in every industry. As we move into 2023, many companies are asking questions like: Should we move to the cloud now or later? Should we lift-and-shift or modernize at the same time? How can we do it without disrupting business as usual?
In Protera's recent webinar, Unlocking the Value of SAP Modern Services for Cloud Computing, my colleague (and Protera's VP of Solutions Architecture), Adam Mommersteeg, and I explore the answers to these questions, cover the essentials of moving to the cloud, and offer insight on how to achieve maximum value from operating in a new cloud environment.
In this article — the first of a multi-part series recapping the webinar — I'll cover these three key takeaways about cloud migration and modernization:
Why cloud migration ≠ modernization (and why that's important)
Methods for migrating and/or modernizing
How the public cloud powers new levels of enterprise innovation
This article will set us up to explore additional topics covered later in the webinar, like IT and business alignment and how to implement modern workspaces on the cloud. At the end of the series, you'll have a strong understanding of what the cloud journey entails, the best methods for your unique business, and how to leverage the cloud to deliver continuous business value.
Let's dive in.
Migration ≠ Modernization
The terms cloud migration and modernization are often used interchangeably, but they're not the same thing and it's important for IT and business leaders to truly understand the difference before embarking on a new cloud initiative.
In short: Migration is simply moving to the cloud — it's the first step toward modernization, but it isn't equivalent. It means making the jump from legacy systems to the cloud, when your business will begin to embrace new operating models and establish new baselines related to governance, security, and continuous improvement.
Modernization is the broader scope, forward-thinking process of readying workloads, systems, and strategies for a cloud-native future.
So what's the right way to modernize?
For many companies, this question — to migrate first, modernize later or do both at once — is at the heart of their hesitancy to move to the cloud. Decision paralysis about doing it the "right" way leads to doing it no way at all. The truth, however, is that there is no single right way to get to the cloud.
At Protera, we have seen and helped customers who say they simply want to lift and shift their ECC environment to a hyperscaler, then think about modernizing to S/4 later on. We've had other customers have success taking the migration opportunity as a compelling event to make the S/4HANA transition at the same time.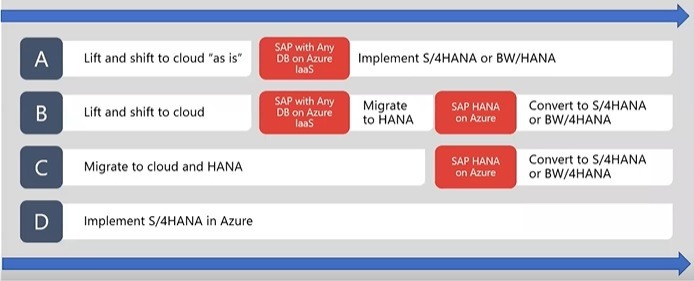 The exact path and order of operations looks different for every company and depends on many factors, including their planned timeline, business urgency, and amount of change they're able to realistically take on at the time.
It's important to note, too, that migrating without immediate modernization shouldn't be seen as an inferior option. In fact, it has advantages of its own — it can eliminate immediate risk (like aging hardware or excessive IT costs), while minimizing disruption (a simple migration can take place without employees or end users even knowing it's happened).
On the other hand, the need for migration can serve as a much-needed motivator for leaders and stakeholders to get on board with full modernization (i.e. moving systems to the cloud and transitioning to S/4HANA at the same time, for example).
According to Microsoft research, there is a fair balance between companies taking on migration vs. modernization vs. both in 2023 — of the 62% with an immediate cloud strategy:
20% plan on migration only
14% plan on modernization only
27% plan to do both

Ultimately, the key to choosing the right path to the cloud is really knowing your business and its needs, capabilities, and goals for the future.
Working with a strategic partner (like Protera) can be invaluable during the decision making process — they can help you perform readiness assessments, provide system-specific expertise, and guide you through best-practice approaches to migration and/or modernization.
The Path to Cloud-Powered Business Success
The emergence of the public cloud hosted by hyperscalers like AWS, Azure, and Google Cloud has brought on new capabilities for continuous transformation, improvement, innovation, and value from cloud environments.
Like many IT professionals, my first cloud experiences in my early career were on the private cloud — we would move a workloatheyd from one private cloud environment to another one, let it run steady-state for 3-5 years, then think about our next update or transformation.
The public cloud has totally transformed this process — today, opportunities for innovation are always changing and evolving. Companies can watch their workloads for 30, 60, or 90 days after moving them to the cloud and rightsize them as needed.
They can buy reserved instances, and implement things like modern workspaces and data intelligence. SAP users can tie SAP data into cloud-native capabilities to power faster, smarter business decisions.
As companies become more sophisticated on the cloud, they can think about implementing DevSecOps, FinOps and other hyper-collaborative strategies that can continually transform and improve the enterprise.
Innovation on the public cloud has proven to be truly endless — it's always changing and growing — and your initial migration or modernization will only be the beginning of reaching new value potential for your business on the cloud.
What's next?
The next two parts of this blog series dive deeper into two key cloud-powered advantages every business is looking to achieve today and for the future:
Or check out the full webinar for access to full insights on these (and other) cloud topics.
Execute Your Cloud Modernization Journey with Confidence
No matter where you are on your cloud journey, Protera's suite of cloud modernization services allow you to take advantage of the latest cloud enhancements. Drive down cost, improve security, and enable continuous innovation across the business with extended cloud adoption and managed services.
Learn more about Protera's SAP Cloud Modernization services and schedule your virtual solutioning session today!