A Simplified Journey to Becoming an Intelligent Enterprise
For SAP customers running their SAP systems on-premise or those already running SAP on the cloud today, RISE with SAP may offer a simplified path for an operational licensing model, aid in achieving business goals around the next generation IT landscape for SAP, and could unify cost and business goals with the OPEX-based cost model.
What's Included with Rise with SAP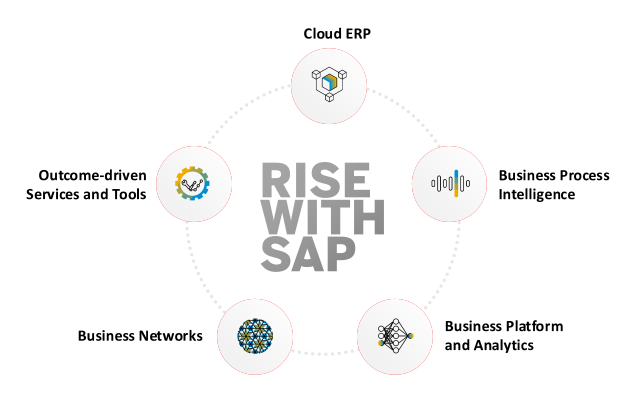 NEWS ANNOUNCEMENT: Protera is authorized by SAP to support SAP S/4HANA Cloud, private edition, SAP S/4HANA and SAP BTP
Rise with SAP: From Migration to Fully Managed Outcomes
As the pioneers in migrating and managing SAP on public cloud, we offer a low-risk, automated migration solution for modernizing your SAP landscape on AWS or Microsoft Azure.

A RISE with SAP engagement with Protera ensures a secure and right-sized transformation to SAP S/4HANA, integrated with ancillary SAP systems. Protera's Rise with SAP Managed services include:
Migration Support: Cloud adoption planning and architecture guidance


SAP BASIS: Preparation of environment, migration to RISE tenant, and ongoing support including Business Process Monitoring, Security Audit Log analysis, AP HA/DR Setup/config support, full SAP lifecycle management support and technical management


Network architecture: Consultation and design decision support to bring up network connectivity


Technical account management: Translastion of business and technical requirements to RISE components


Standard services consulting: Integration of standard IT services such as DNS forwarding
SAP S/4HANA, Private Cloud Edition: Protera Provided Services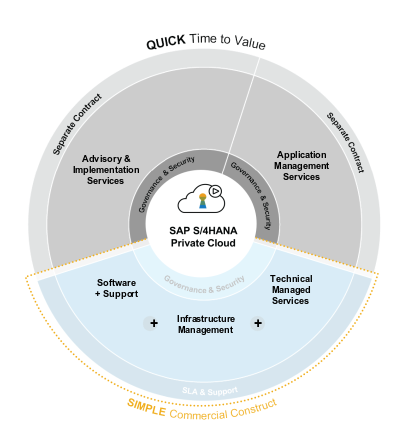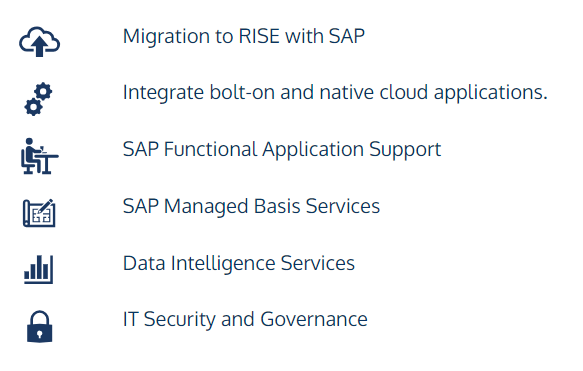 How Protera Complements RISE with SAP
SAP Migrations
Protera accelerates and de-risks your migration of RISE with SAP to hyperscaler of choice with the best technologies from SAP, AWS, and Microsoft Azure using a combination of methods like storage replication, database replication, backup and restore, or fresh build.
SAP Managed Basis Services
With 25 years of SAP BASIS managed services experience, Protera's deep bench of SAP experts provides technical management of your SAP and related applications, including basis support, database, OS, security, patching, and performance.
Integrate bolt-ons and native cloud applications
Protera ensures that all 'friends of SAP' and native hyperscaler applications are seamlessly integrated to your RISE with SAP tenant. This is not included with the RISE with SAP package from SAP.
I

T Security and Governance
Protera's integrated SecOps model creates a security baseline for comprehensive governance and managed services to enable continuous security posture reporting. Protera is globally certified, ITIL-based SAP partner with SOC2 for SAP and non-SAP.
RISE with SAP: Key Considerations for a Successful Transformation
Walk through three key considerations for deploying Rise with SAP with Jatin Oza, Director of Application and Managed Services at Protera.

Considerations include:

1. Determining business objectives and strategy

2. Technology and infrastructure-related considerations

3. RISE program management
Moving clean beauty makeup brand to S/4 and the cloud
Challenge

Beautycounter - clean beauty product company - wanted to:​
• Streamline and modernize supply chain​
• Scale for the growth of the company​
• Reduce IT infrastructure costs
What We Did​



In six months, Protera fully implemented SAP S/4HANA on AWS and provides ongoing cloud and SAP managed services.
Results​



• 25% increase in inventory accuracy​
• 6-month project timeline​
• Streamlined sales, operations planning, and supply planning processes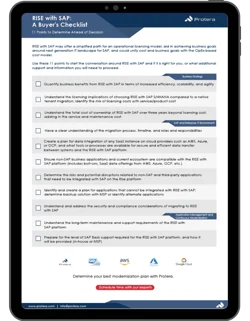 RISE with SAP Buyer Checklist
11 considerations when determining if RISE with SAP is the right decision for your business.


Determine your best modernization plan with Protera
Book a 1:1 session with our enterprise cloud experts to get your modernization plans underway and achieve business goals.