Migrate SAP and critical supporting applications to AWS or Microsoft Azure securely with minimal business impact

Secure, agile, and cost-effective
Accelerate your SAP migration to cloud and start your cloud modernization journey to achieve the scale, flexibility, and operational shift to drive value.
Accelerate and simplify your SAP migration to cloud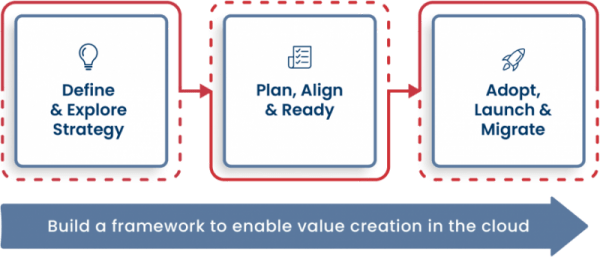 As the first to migrate SAP to public cloud, Protera uses a well-architected cloud adoption framework backed by automation to reduce complexity, accelerate timelines, and drive down the cost of critical application migrations versus a traditional approach.

Whether SAP migration, SAP HANA upgrades, S/4HANA transformation or full data center modernization, Protera has experience in migrating and modernizing even the most complex enterprise systems with a focus on measured business outcomes.
Protera SAP Migration Services Include
SAP Cloud Migration Assessment
Comprehensive assessment and detailed SAP migration plan led by our team of SAP and enterprise cloud transformation experts including projected cost, timeline and target architecture
Automated Migration and Management Platform
Orchestration of latest SAP and cloud technologies such as Azure Migrate, SUM/DMO, HSR, along with proprietary automations, for highest quality, shortest timeline, and minimal business interruption
SAP Migration and Integration
Migration and integration of SAP ECC, BW, Business Suite on HANA, S/4HANA, or any SAP application, plus surrounding applications/bolt-ons (Vertex, OpenText…) from any environment
Deepest SAP Expertise
SAP Certified solutions for Microsoft Azure and Amazon Web Services (AWS), as an advanced tier partner with multiple advanced specializations.
Data Center Transformation
Deep experience in data center transformation, including custom applications and integrations, to provide modern business capabilities on the cloud
White Glove SAP and IT Services
Full visibility, monitoring, and ongoing support of your systems by SAP basis and cloud experts

"Since 2015, our operating portfolio and our operations have grown six-fold, 600%, and we've only had to double our workforce to accommodate. Running SAP on cloud managed by Protera, we've been able to keep OpEx low, still hit our margins, and really thrive in our industry."
"Protera has provided K-SWISS with an agile, growth ready platform that offers us an accurate centralized services with proactive monitoring and optimization."

"Protera delivered a seamless transition from the project straight into ongoing support and continues to provide us opportunities to improve performance."
Create your cloud strategy and business case today
Schedule a complimentary discovery call with our cloud migration experts to learn how to accelerate your SAP migration, improve security and minimize cost