Why run SAP on Azure? (Success Stories Included)
By 2027, SAP support for its traditional ERP and ECC software will officially phase out. With this imperative nearing, now is the time for companies to migrate to cloud and evaluate SAP S/4HANA, and Microsoft Azure has proven to be a powerful choice for enterprises taking the leap. In fact, SAP's own IT department chose Azure when they migrated critical business systems to the cloud.
The sections that follow will cover what you need to know if you're considering running SAP on Azure, including:
Why companies choose Azure
What an SAP on Azure migration entails
The benefits of migrating SAP to Azure Cloud
How companies running SAP on Azure are succeeding
Quick Takeaways
Microsoft Azure is a cloud platform considered by nearly half (47%) of all enterprises migrating SAP to the public cloud.
Companies that migrate to SAP on Azure experience 112% ROI and a 30% improved time to market (among other benefits).
There are four main migration methods to SAP on Azure: rehost, refactor, rearchitect, and rebuild.
Protera customers using SAP on Azure have experienced higher resilience and agility, better infrastructure visibility, reduced costs, and a better ability to serve customers well.
Why do companies choose to run SAP on Azure?
According to an SAPinsider report on S/4HANA deployment approaches, Azure is a primary platform considered for 47% of SAP users when deploying to a public cloud environment.
Why do nearly half of all SAP enterprises look to Azure when they decide to migrate to the cloud? Forrester's 2021 Total Economic Impact Study of SAP on Azure shows — by the numbers — how Azure has established itself as a strong choice. The study interviewed decision makers and SAP users to assess cost, risks, and benefits.
Customers interviewed were running SAP in on-premise data centers and all faced challenges related to the high cost of managing these environments. After migration to SAP on Azure in the cloud, they experienced:
112% overall ROI
30% improved time to market for new operations
14% reduction in development time
25% reduction in development resources
Other benefits included improved uptime and recovery, better security and data privacy, and higher levels of innovation. The payback period for both quantified and unquantified benefits of running SAP on Azure was less than 6 months.
What does an SAP migration to Azure entail?
There are several possible methods for an SAP Azure migration. The right one for an enterprise depends on their current situation and desired business outcomes. SAP outlines the four potential migration scenarios as follows:
Rehost - No-code option that allows you to migrate SAP applications as-is. Often referred to as "lift and shift."
Rearchitect - Also called "repackage." Utilizes infrastructure as a service (IaaS) and platform as a service (PaaS) products (such as Azure App Service) to migrate applications with only small changes to code.
Refactor - Modifies application code to optimize for the cloud. Creates more resilient and independently deployable architecture.
Rebuild - Total application rebuild using cloud-native technologies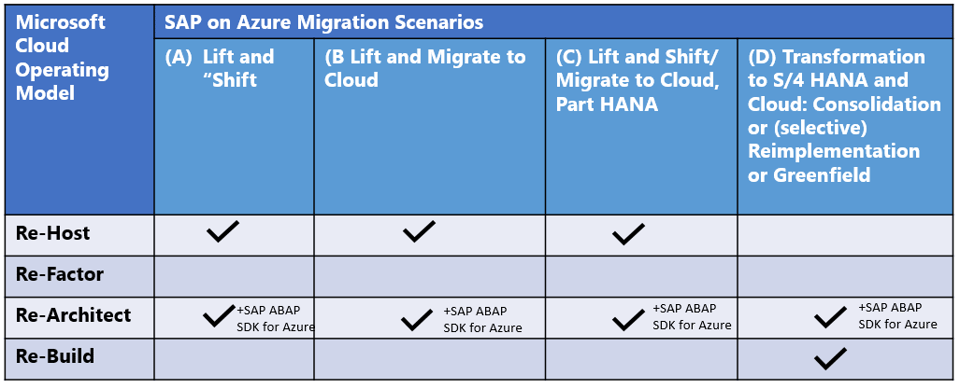 As you can see above, transformation from traditional SAP ERP to S/4HANA on the cloud requires a rearchitect or rebuild approach. While implementation costs are generally higher for these methods, both drive lower ongoing operational costs and an array of other business benefits that increase their long-term ROI.
Benefits of Running SAP on Azure: Customer Success Stories
Ingevity
Global manufacturing firm Ingevity inherited outdated systems from its former parent company. As they neared the end of a five-year agreement for their on-premises data center, their IT team recognized that the on-premise model was not right for their future. Instead, they wanted to go cloud-first and cloud-smart, and began planning a migration to Microsoft Azure.
Microsoft introduced Ingevity to Protera to assist with the migration and provide managed cloud and application services going forward. The Protera team handled project coordination to ensure a smooth migration.
The IT leadership team had clear key performance indicators (KPI's) for this critical workload migration. Most important was the timeline. The entire process needed to be complete, from assessment and discovery to go-live, within six months. Also, there could be no disruption to the business.
This operation was not a straightforward lift-and-shift migration. The IT landscape passed down from Ingevity's parent company included obsolete and redundant systems that needed to be modernized and consolidated.
Ingevity and Protera partnered on the complex process of going through long lists of servers and applications, making sure they understood what everything was. They used Protera Arion, Protera's automate SAP migration and management platform, which is able to deploy the migration of a large numbers of systems into the cloud quickly and securely..
The project was successful — Ingevity moved 74 TB of data, 180 systems, and 462 network devices serving manufacturing sites and sales offices in 23 countries, without the users even noticing.
Running SAP on Azure has made Ingevity more resilient on several fronts. In fact, the company gained 50 percent or more of the cost optimization through Protera's target architecture design , eliminating the need for 150 out of 600 servers.
Ingevity has also gained agility in operations. "We talked about spinning up a file server for something we're doing with finance," shared Ralph Wasner, Ingevity's Director of IT Infrastructure and Strategy, "In a datacenter, that would be a three-to four-week project. In the Azure cloud, it takes maybe two days to stand up."
Finally, Ingevity increased its understanding of and transparency around the company's infrastructure. Wasner said, "We know how all of our platforms come together, how they're sized, what we're using, what the consumables are, and our growth models."
With this increased resilience, the team is well-positioned for the next phase of their digital transformation, implementing SAP S/4HANA.
Watch the full video on Ingevity's SAP Azure transformation
Altra Motion
Altra Industrial Motion is a publicly traded manufacturing company. They successfully partnered with Protera to migrate their SAP Business Suite to HANA on the private cloud in 2015. A few years later in 2019, Altra CIO Rick Klotz became curious about the differences between Suite on HANA and SAP S/4HANA.
Newly acquired business units were coming online, and Altra needed a highly scalable solution to support ongoing business growth. Klotz decided to pursue a Protera Arion Discover Assessment. With information directly from the source environment, Protera Arion provided an automated assessment of the target environment on Azure within 48 hours, including:
A list of remediation items required to be resolved prior to a transformation
Target architecture of the SAP S/4HANA footprint on Azure
Complete project timeline and cost
Klotz then decided to move forward with a 12-week pilot SAP S/4HANA environment as Azure to explore the new functionality, as well as the impact an upgrade may have on Altra's power users.
The SAP S/4HANA sandbox environment on Azure was configured by Protera using SAP Activate, following SAP best practices with all standard configurations utilized as part of the installation.
In evaluating the differences between ECC and S/4HANA, the Protera team extensively tested all Fiori and S/4HANA features, demonstrating the full capabilities Altra could achieve running their SAP systems on a powerful cloud platform like Microsoft Azure.
Being able to review SAP transformation options with the Protera Arion Assessment and evaluating SAP S/4HANA during the 12-week pilot provided Klotz with confidence running his SAP systems on Microsoft Azure in the future.
"I am pretty amazed at the three-way partnership between Altra, Protera and Microsoft," said Klotz. "It's been very transparent working together to find the right path."
Watch the full video on Altra Motion's SAP on Azure pilot project
Spartech
In 2017, St. Louis based plastics innovator and manufacturer, Spartech, faced a six-month window to carve out SAP ECC, BW and non-SAP applications into a separate business from a larger chemical company due to a divestiture.
Spartech had over two terabytes of SAP and non-SAP application data that needed to be strategically architected for maximum performance. The company's small IT team also had to be able to stand up its SAP solutions in a new cloud environment.
CIO John Vandeven, realized the need to leverage a third party to augment his IT team and manage the SAP application from the separation through ongoing support. He selected Microsoft Gold partner Protera Technologies to support his efforts to build and execute an Azure strategy.
Protera architected a solution that maintained business continuity while cutting costs, and offered the speed, availability, and flexibility to support Spartech's 15 24/7 manufacturing facilities. They partnered with Spartech to execute the entire migration project within their needed 6-month timeframe.
Enhanced performance on Azure now allows Spartech to provide more efficient, flexible service to customers, which is important to the company's strategy of continued organic growth in a specialty market scenario. Says Vandeven, "Our goal is to be able to quickly react, flex, and be nimble in how we deliver solutions to our customers and our business—now and in the future."
Read more about Spartech's Azure transform
Over to You
Planning an SAP migration to the cloud? Protera can guide you through it successfully. Our proven 3-step process optimizes time to completion while minimizing business disruption.
Schedule a virtual solutioning session today to get started.