Jumpstart Workloads on Azure in 28 Days
Over the past few years, we've seen more companies migrate to the cloud than ever before. The pandemic, followed by new norms around remote and hybrid work, and intensified by big data and the need for more scalable IT infrastructures have collectively provided the final push many companies needed to operate their enterprise applications on the cloud.
Today, cloud-based operations are fast becoming a competitive necessity, and companies that stick to outdated legacy systems will soon find themselves falling behind the curve .
Executing a cloud migration is a complex undertaking — one that's best done in partnership with an experienced cloud partner who can support you with the right expertise, frameworks, and automated execution tools.
In this guide, we'll cover why Microsoft Azure is a top choice for your cloud hyperscaler solution, how Protera's 4-week Move to Microsoft Azure service can help get your enterprise applications running on the cloud in just one month, and ways it can add immediate value for your business.
Quick Takeaways
Azure is a leader in the cloud hyperscaler industry, owning about a third of the market with its share growing year over year.
Protera is a preferred migration partner and has seen success firsthand with many clients who have moved their systems to Azure.
Protera's 4-week Migration Service helps companies move up to 10 servers to the Azure cloud in just 28 days.
Program deliverables include a full readiness assessment, a migration plan with projected cost and timelines, and automation-backed tools for execution.
Why choose Azure to operate enterprise applications on the cloud?
Azure is one of the best hyperscalers on the market for running enterprise applications on the cloud. SAP itself migrated their own ERP systems to Azure in 2017, choosing it after careful evaluation of other top cloud providers, like Google. What better customer testimonial could there be for running SAP solutions on the cloud than SAP itself?
Further, Microsoft has been running SAP for decades, suggesting a solid business partnership and strong systems alignment that bodes well for SAP users also choosing Azure.
It's not just SAP and SAP users finding success with Azure, either — they're a clear market leader, accounting for about a third of the cloud hyperscaler market and showing growth in both 2021 and 2022, according to Statista.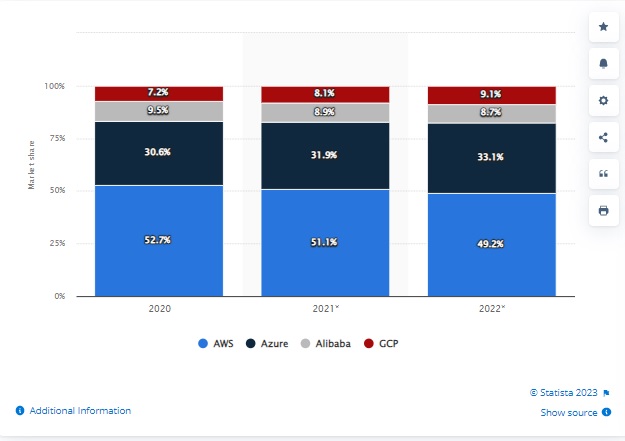 Protera is an exclusive partner for SAP migrations for Microsoft Consulting Services (MCS) and the only North America Microsoft Azure Preferred Partner. We've worked with many clients who are migrating their entire data centers to the Azure cloud, and seen firsthand the powerful benefits it delivers to their businesses.
Global manufacturing firm, Ingevity, for example, retired their outdated SAP and non-SAP on-premise systems and migrated smoothly to the Azure cloud — 74 TB of data, 180 systems, and 462 network devices serving manufacturing sites and sales offices in 23 countries — with zero disruption to business as usual (their employees didn't even notice).
Spartech executed a complex re-architecture and migration to the Azure cloud after a divestiture to achieve cloud modernization goals, cost savings, and greater operating flexibility.
In both of these cases, the key to success was collaboration with an expert SAP migration partner who could help them perform a thorough readiness assessment, map out a migration plan, and execute with confidence (and little to no disruption or downtime).
How Protera Can Help You Jumpstart Workloads on Azure in 28 Days
Protera's 4-week Azure migration service enables companies to jumpstart their cloud adoption and be up and running on the cloud in just 28 days. This particular engagement includes the complete installation of up to 10 servers on Azure and potential access to funding programs. In addition, you can leverage Protera's expertly architected, automation-driven cloud migration framework to reduce complexity, accelerate timelines, and drive down costs compared to other traditional approaches.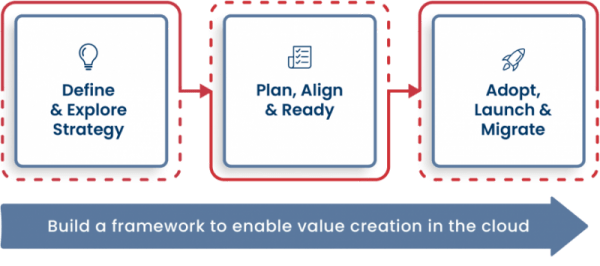 Specific deliverables included in this program are:
Customized Migration Assessment — Comprehensive assessment performed by our expert enterprise migration team to evaluate your current state architecture and readiness to migrate.
Cloud Adoption Plan (CAP) — Detailed execution plan that includes projected cost, timeline, and target architecture.
Protera's Automation Framework — Proven automation platform to drive time to value, security standards, and consistent deployment of enterprise applications.
White-Glove SAP and IT Services — Full visibility, monitoring, and ongoing support of your systems by SAP basis and cloud experts
Perhaps the biggest benefit of all to this program is that you can get over the initial hesitation so many businesses experience when it comes to taking the leap and adopting the cloud. Worries about cost, business disruption, delays, and migration failures that hold so many companies back are eliminated when you have the support of experienced, well-versed enterprise system management teams.
With Protera as your partner, you can confidently move your business to the Azure cloud and begin your larger journey toward digital transformation goals.
How to Get Started
To learn more about Protera's 4-Week Microsoft Azure Migration service to jumpstart your enterprise applications on the cloud, visit the Azure Marketplace for more information.
If you'd like to learn more about Protera's comprehensive suite of solutions for optimizing and running your enterprise systems on the cloud, explore our services through our website or schedule a time to talk to our sales team.