3 Top Priorities for Tech Leaders in the SAP Ecosystem
Change has been a constant over the past 2+ years for tech leaders in the SAP ecosystem. And while organizations have navigated their fair share of challenges to shift to remote work, operate during a pandemic, and deal with The Great Resignation, there have also been positive outcomes as a result of this forced transformation.
Most notably, digital transformation initiatives were significantly accelerated across the enterprise. By the end of 2020, McKinsey research found the pandemic had already accelerated transformation outcomes by several years.
In the 20+ months since, SAP tech leaders have worked to maintain sound IT infrastructures in an environment of seemingly boundless innovation and change.
In April and May 2022, SAPInsider surveyed and interviewed 130+ executive leaders within their community to explore just how CIOs and other tech executives are leading the charge toward organization and technology change. Key takeaways from the study included emerging priorities for tech leaders in the SAP ecosystem in the coming months and beyond, including:
Defining a strategy for change management
Preparing for — and combating — barriers to change
Leveraging external partners and resources
Let's take a deeper dive into these three areas of focus, plus other important insights from the SAPInsider report.
Quick Takeaways
Digital transformations initially accelerated by the pandemic (like remote work environments) are proving to be more permanent changes.
SAP users must look to modernization with the phase out of SAP Business Suite support.
High-performing change managers focus on innovative priorities like new business models and digital customer experiences.
Top barriers to change include process inconsistencies, budget constraints, and natural human resistance.
SAP tech leaders must leverage external partnerships to access the right expertise to execute transformational change (digital and otherwise).
What's driving change for SAP tech leaders?
Before we get into specific priorities for tech leaders, it's important to understand what's driving continued change. After all, we're well over two years out from the onset of the pandemic, yet companies are still experiencing impactful disruption.
SAPInsider asked survey respondents to identify areas of change they were experiencing, and new technology transformations topped the list at 57%. Second was the continued increase in remote and hybrid work (45%), and third was required upgrades to technology (42%).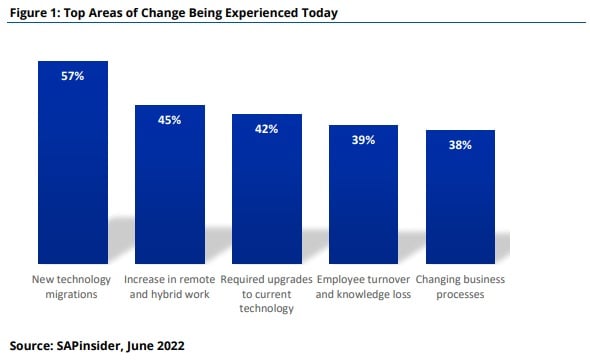 It seems, then, that digital transformation initiatives driven initially by the pandemic have now become more permanent strategic priorities. For tech leaders in the SAP ecosystem, that's coupled with the pending end to SAP Business Suite Support (slated for 2027) and emergence of SAP S/4HANA as the new standard.
3 Top Priorities for Tech Leaders in the SAP Ecosystem
Defining a strategy for change management
Defined and holistic change management strategies proved to be a differentiator between true IT leaders and the remaining sample from SAPInsider's report. They broke down high performers and the remaining sample using a self-reporting question that asked respondents to rate their ability to drive change in the organization.
High performers show to be highly driven by innovative change factors like new business models, technology integration, and customer demands for more digital experience — areas where laggards rated themselves significantly lower.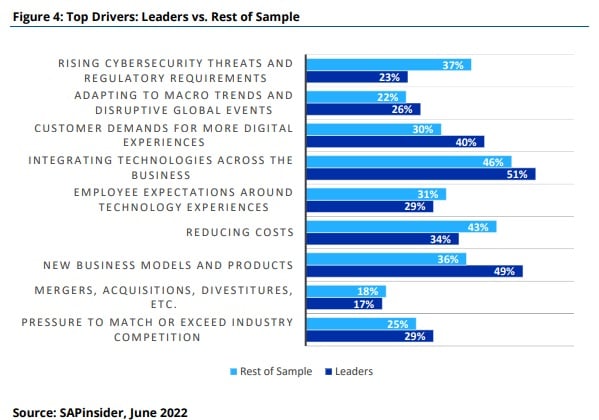 The takeaway: the ability for SAP tech leaders to drive change is driven largely by prioritization. By integrating technologies across the business, there are opportunities to innovate while adding immediate value with quick wins that impact cost optimization and governance, security, and data intelligence. Read more about innovation through continuous change here.
Preparing for and combating barriers to change
Inevitably, tech leaders in SAP ecosystems (and in any digital transformation environment) will encounter barriers to change. Process inconsistencies (46%), budget constraints (42%), and natural human resistance (29%) topped the recent survey's list of challenges encountered while implementing new change initiatives.
The report found improved stakeholder communication and increased training and education at the top of the respondents' list of potential solutions, suggesting that directly engaging resistors and/or providing resources that set employees up for success are both key to gaining their buy-in. Protera's clients suggest bringing in end users and key functional stakeholders early on during any change to business functionality, well before the testing phase begins.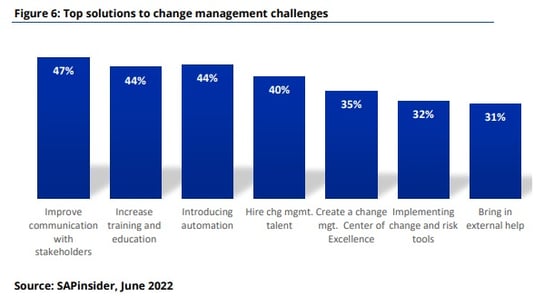 Leveraging external change management partners
Around three-quarters of SAPInsider survey respondents — 74% — reported that they leverage external consulting firms and other organizations to help them manage change management initiatives. The survey drilled down further to find out exactly how partners fit into the process, finding that 60% of respondents leveraged them for strategy support. Other areas of support were in the implementation of change management tools (48%) and developing skill sets (38%).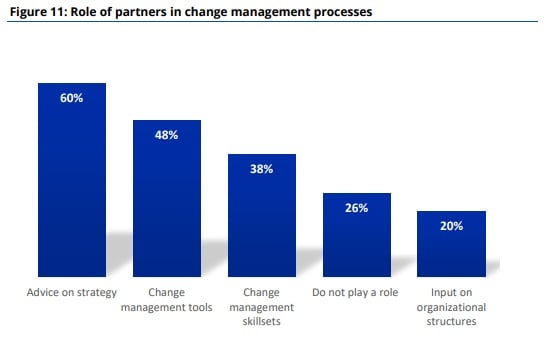 The reality is that change management — and certainly digital transformation — are complex undertakings. They require the right expertise and resources to execute effectively and maximize ROI. SAP tech leaders must first look inward at the internal resources at hand, then leverage external partners, tools, and other resources when needed to lead real change.
Putting it All Together
What has emerged from SAPInsider's research is that tech leaders — more than ever before — are strategic leaders within their organization.
This aligns with other industry research. CIO.com's 2022 State of the CIO Report found that 84% of IT leaders report the CIO now has increasing responsibility as a changemaker (and 76% of their line-of-business counterparts agree).
For SAP tech leaders, then, focus must remain dually rooted in both effective execution of tech initiatives and the very human elements that go along with it.
Jumpstart your SAP and IT priorities with Protera
Protera can help you achieve business outcomes faster, and jumpstart your cloud modernization plans with our proven 3-step process:
1. Assess - In this step, we assess existing systems using Protera Arion automations. We discover system information, analyze risk, generate the correct architectures, and predict your migration timeline.
2. Migrate - We accelerate and de-risk your migration with Protera Arion and the best technologies from SAP, AWS, and Microsoft Azure. We use a combination of methods like storage replication, database replication, backup and restore, or fresh build.
3. Validate - We ensure that your systems are up and running properly, provide hypercare support, and ensure that cost, performance and reliability are exactly what you expect.
Learn more here about Protera's SAP Cloud Migration services. Or, to get started on your SAP transformation, schedule a virtual solutioning session today.