The Quickest Route to SAP S/4HANA on Azure
Hyperscalers have changed the game when it comes to running your business on the cloud, and Azure is one of the best for large enterprises. Both companies demonstrate in practice their trust in each other to execute at exceptional performance standards — SAP migrated their own business systems to the Azure cloud, and Microsoft has been running SAP for decades. Today, Azure holds about a third of the market with its share showing consistent incremental growth over the past three years as more companies have adopted the cloud.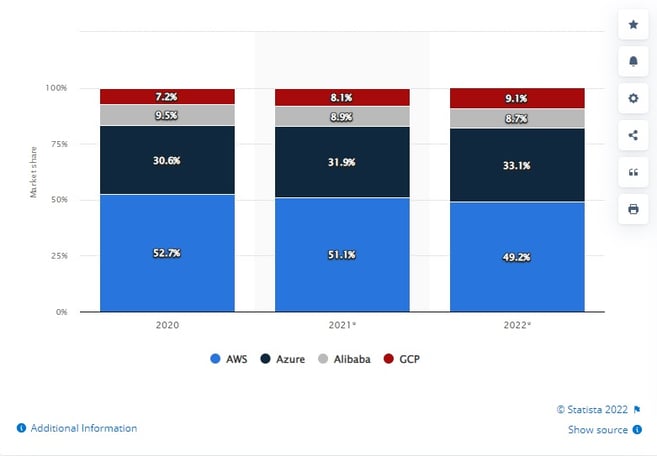 At the same time, SAP S/4HANA has officially emerged as the option of choice for SAP users migrating to the cloud and seeking to operate innovative, agile organizations.
With support for traditional ERP and ECC software phasing out by 2027 and cloud capabilities becoming a business imperative, even S/4HANA laggards will need to get on board in order to stay competitive.
If you're considering launching SAP S/4HANA on Azure, one of your top questions is likely how to best execute an accelerated cloud migration while minimizing risk and optimizing systems along the way. In the sections that follow, we'll look at four best-practice steps you should take as you move to Azure, including how to leverage SAP resources and trusted partners to help.
Quick Takeaways
A readiness assessment should always be performed prior to cloud migration or transformation
Detailed action plans for migrating to SAP on Azure cloud should include current and target state architectures, technical design documents, and disaster recovery plans.
SAP's Cloud Appliance Library provides pre-configured templates to demo new environments, test solutions, conduct training, or perform proof-of-concept exercises.
Working with a SAP-certified partner organization (like Protera) can help you minimize risk and execute your migration with confidence.
Launching SAP S/4HANA on Azure
Step 1: Do the right prep work
A readiness assessment is a critical preparatory step before any cloud migration or upgrade — launching SAP HANA on Azure is no exception. It's important to fully understand your current state architecture, assess potential risks, assess application readiness for S/4HANA, estimate costs, and develop your target state architecture.
Protera automates this entire process with an automated cloud assessment, which helps clients plan and migrate SAP to Azure migrations at 3X the speed with a 30-50% cost reduction.
Further reading: Microsoft's Planning and Deployment checklist for running SAP on Azure.
Step 2: Create a detailed plan
The next step is to complete a thorough execution plan. In the aforementioned Planning and Deployment Checklist from Microsoft, they recommend developing a number of documents as part of your plan:
High-level design document: Includes a complete inventory of SAP components and applications (current and target), matrix of assigned responsibilities, solution architecture, security principles, and decision on which Azure regions you'll deploy to.
Technical design document: Includes block diagram for solution, disaster recovery architecture, and sizing of Azure components (among other items).
Inventory of interfaces: Should include SAP and non-SAP interfaces
Business documents: Contract with Microsoft, subscriptions plan, data migration plan, etc.
Step 3: Utilize the Cloud Appliance Library
Users can leverage SAP's Cloud Appliance Library to test SAP workloads on Azure using pre-configured templates. The tool allows you to quickly create demo environments, explore potential use cases, and execute proof of concept exercises using Appliance Templates in the continuously-updated library.
The result: faster time-to-value, mitigated risk, and higher confidence in execution success.
Step 4: Execute
Last but not least, execute your SAP to Azure migration plan. The steps you've taken prior to this one culminate in an accelerated migration through risk reduction, anticipation of potential challenges, and a full understanding of how each component in your IT infrastructure needs to be adjusted (or not) to operate seamlessly on S/4HANA in the cloud.
To ensure continued success throughout execution, actively monitor your progress against goals and benchmarks you set before launch — think time, cost, and high availability to prevent disruption to business as usual. Stay agile using the resources you've developed, addressing the inevitable challenges that arise with quick, innovative approaches and solutions.
How a Certified SAP Partner Can Help
No matter how well you prepare, migration to SAP S/4HANA on the cloud is a complex process with many moving parts. Without the right expertise and guidance on execution, the potential for making costly mistakes is higher.
It's why companies of all sizes and across industries choose to work with a SAP-certified partner — like Protera — to plan and execute their SAP migration and manage their SAP environments.
Protera offers several service solutions to help you execute SAP projects successfully:
SAP Migration - Migrate SAP and critical supporting applications to Azure or AWS
securely with minimal business impact.
SAP Managed Services - Run SAP-related applications on Azure or AWS with lower costs, higher quality, and more agility.
Cloud Modernization - Modernize your applications, infrastructure, and operations to achieve business outcomes.
Data Intelligence - Discover trends, highlight anomalies, and gain insights to make data-driven decisions in real-time.
IT Security and Governance - Continuously assess your security posture, managing and improving it to stay ahead of the risk curve.
Contact us to schedule your virtual solutioning session today.