SAP S/4HANA: Adoption Options
If you're an SAP user (or work at all in the world of enterprise software) you've no doubt spent the past near-decade hearing the hype about SAP S/4HANA. Cloud-powered and equipped to enable new levels of innovation, SAP touts S/4HANA as a tool that creates intelligent, agile, data-driven enterprises.
Enterprises, developers, and system integrators (SIs) are equally excited about the cutting-edge features S/4HANA makes possible, such as real-time data, greater collaboration, next-gen UX, and business process transformations.
The onset of the pandemic in early 2020 only propelled the momentum behind S/4HANA as companies quickly launched remote work environments and underwent several years' worth of transformative change in just weeks.
But what about the collective SAP customer base and their decision makers? As the 2027 deadline to migrate to S/4HANA fast approaches, do organizations mostly feel ready to take the leap? Do those that have already taken it feel like it's been worthwhile?
There's no doubt IT leaders understand the objective value of S/4HANA's technology, but they have real questions and concerns about a potential S/4HANA migration, including what it would cost, if it would disrupt their current business operations, how to leave behind years of customizations, and how it would impact their users.
What they really need is an objective, ground-level overview of what an S/4HANA transformation would look like for the organization, how companies have succeeded (or not) in their S/4HANA journeys, and factors that can guide their decision about if and when to take the leap.
Quick Takeaways
As of Q1 2023, about a third of current SAP customers had become licensed for S/4HANA, and SAP gained 8,800 net new customers.
Top customer concerns around migrating to S/4HANA include high costs, organizational readiness, potential disruption and downtime, and end user impact.
Performing a proof of concept exploration allows you to explore firsthand how your systems and processes would work on the S/4HANA cloud.
S/4HANA transformations can be more seamless and effective by working with a trusted SAP-certified migration partner.
The State of S/4HANA in 2023
Despite the many clear advantages of moving to S/4HANA on the cloud — and a worldwide pandemic to give remote, cloud-powered working environments a huge push — adoption of S/4HANA on the cloud hasn't been particularly fast-moving.
A recent study found that as of Q1 2023, only about a third of current SAP users had an S/4HANA license, while 68% did not. An additional 11% were licensed but hadn't yet gone live. At the same time however, SAP gained about 9,000 net new customers.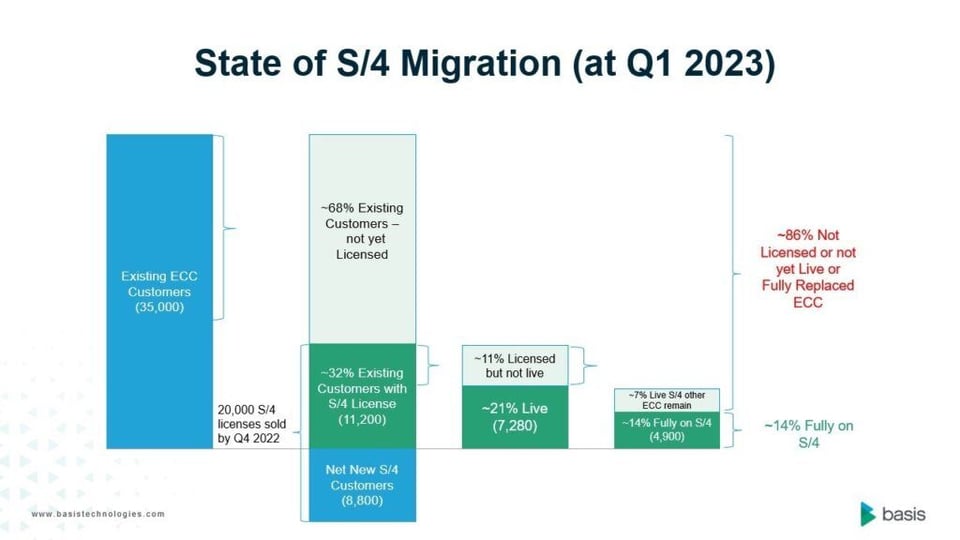 There are some interesting takeaways here. First, the good news for SAP users — if you haven't yet adopted S/4HANA or decided when you will, you're not alone. In fact, you're in the majority.
For SAP however, there are some questions. Given all that SAP/4HANA offers, and options like RISE with SAP to help them get there, why aren't more customers transforming sooner rather than later?
It's clear there is a disconnect between the convenience, capabilities, and options of S/4HANA and the belief that it's the best option — at least right now — for their business.
Let's explore some reasons why.
Addressing Concerns About S/4HANA on the Cloud
Cost Overrun
If IT leaders are doing their due diligence before migrating to the cloud, it's no surprise one of their top concerns is the cost of running SAP S/4HANA on the cloud. McKinsey reports that a staggering 75% of cloud migrations go over budget, meaning most companies considering a migration would naturally assume theirs is likely to go over budget, too.
The truth is that a large portion of over-budget migrations occur because of mismanagement and lack of governance during the project. How to avoid? Start with these six pillars to avoid an unacceptable and unstable migration.
Organizational Readiness
There are two facets of organizational readiness — IT and human.
From an IT perspective, many organizations (especially large ones) are operating highly complex infrastructures with legacy systems and many dependencies. In some cases, the IT team might not have a full handle on their current state architecture and thus no good sense of how a move to S/4HANA would be executed.
Second is the human readiness perspective. A migration to S/4HANA brings change and most of the time, people have a hard time embracing it — especially in the workplace. From a management perspective, moving to S/4HANA may require cultural change management efforts while at the same time users need to be trained on new systems and processes.
This requires time, expertise, and resources that some organizations feel they don't have in place.
Business Disruption and Downtime
Business disruption and downtime cost companies millions each year. Without a well-planned and executed SAP transformation roadmap, disruption and downtime are both real risks. If a company's IT team doesn't feel like they have the adequate resources in place to prevent them, they may choose to totally put off a move to S/4HANA.
End User Impact
In the end, what matters most related to any IT change is how it impacts your end users and key stakeholder groups — employees, partners, customers (and others). Without a strong handle on how an S/4HANA migration would impact the experience of engaging with your company, it can be risky to take on.
Multiple S/4HANA Options
Whether on premises or on cloud, there are many options for adopting S/4HANA, including RISE with SAP, a native cloud implementation, or migrating existing systems to the cloud with a sidecar S/4HANA implementation alongside the project.
For many SAP customers still running their SAP systems on-premise, RISE with SAP may present an opportunity to take advantage of a one-step cloud and S/4HANA adoption plan. For those customers who already have the advantage of running SAP on cloud today, RISE with SAP may present the business case they are looking for to secure the funding and green light to transform to S/4HANA.
No matter if the business is on premise or on cloud today, a native cloud approach to adopting SAP S/4HANA is still a viable option. For businesses with footprints beyond SAP that require integrations, or those that have already taken advantage- or would like to take advantage of - cloud native SaaS tools/applications, the native S/4HANA approach may prove to be the option with the most flexibility now and in the future.
Weigh out your SAP S/4HANA options with this handy 11 point buyers' checklist.
Performing an S/4HANA Proof of Concept
An option to understand how your SAP systems and business operations would translate to S/4HANA on the cloud is with a proof of concept (PoC) exploration. Getting an S/4HANA proof of concept means testing your systems in a sandbox environment to understand what will work and what needs to be changed before you actually migrate.
During a PoC exploration, you can:
Understand how S/4HANA aligns with your business requirements and goals
Evaluate your user interface and explore how S/4HANA can enhance it
Simulate real-world scenarios to see how you'd execute key business processes on S/4HANA
Test new reporting and analytics capabilities offered on the S/4HANA cloud
No matter how many SAP team members you talk to or S/4HANA success stories you read, you can never fully know how the experience will go for your business. Kicking the tires on S/4HANA allows you to experience it firsthand and gain a clear understanding of how a migration would impact your IT systems, operations, capabilities, and end users.
Transform to S/4HANA Confidently with Protera
Partnering with a trusted SAP-certified service provider ensures your migration is backed by the experience, expertise, and technology needed to make it a success. Protera's team of experts can deliver end-to-end support for your S/4HANA transformation from migration planning to execution and post-go live management.
We help you assess your options, readiness, and optimize systems at every step of the way to save costs and maximize ROI.
To learn more about how Protera can help your business grow on the cloud, contact us or schedule your demo today.