How to Choose the Right SAP Disaster Recovery Solution for Your Organization
SAP disaster recovery solutions protect companies in the case of a system outage, security breach, or other unplanned event that causes downtime.
Why is this important?
Because research has found that an overwhelming 82% of companies experienced unplanned downtime over a three-year period, and the negative impacts are massive.
Unplanned downtime can result in millions of dollars in costs, lost production time, failed services, and lowered customer satisfaction. Clearly, downtime is a huge risk for any company that wants to avoid significant loss and a break in customer trust.
In the sections that follow, we'll explore why you need an SAP disaster discovery solution, plus how to choose one that's right for your organization.
Quick Takeaways
Disaster recovery (DR) solutions automate recovery measures and proactively protect companies from loss.
Cloud-based SAP disaster recovery solutions use methods like system replication, storage replication, and backups.
Recovery time objective (RTO) and recovery point objective (RPO) are the two most significant DR metrics to know and measure.
When choosing a disaster recovery solution, consider your company's unique needs, then look for innovations provided to simplify the process.
What constitutes an SAP disaster?
An SAP disaster is defined as unexpected downtime that occurs as a result of a system outage, application failure, cyber attack, or other catastrophic IT event. Extended downtime can lead to significant data and financial loss for companies that experience it.
Research has found that just a single hour of downtime can cost upwards of $260,000. In certain industries, such as finance, manufacturing or healthcare,, who operate on a 24/7 schedule, just seconds of downtime can be a source of massive disruption.
Those industries— and any organization that wants to be fully protected from data loss — need a SAP disaster recovery solution.
What is an SAP disaster recovery solution?
Disaster recovery (DR) solutions are platforms that streamline and automate disaster recovery measures to keep your business protected at all times. The type of solution you choose and the specific recovery methods you implement depend on your needs and the environments in which your systems and applications live.
Traditional on-premise data recovery solutions require on-location backup systems that can be expensive to install and maintain. On the cloud, however, DR processes can be implemented more quickly and at way less cost. Platform tools now provide comprehensive disaster recovery services that include synchronous data and system replication, continuous data protection, and application failover measures.
Cloud-based SAP disaster recovery solutions for S/4HANA typically execute using the following methods:
System or storage replication
System replication involves configuring a secondary standby system that's an exact copy of the active primary system. After initial replication, updates are sent to the secondary system whenever changes are made and data snapshots are sent periodically. If the primary system experiences a disaster event, the secondary system uses the last snapshot to take over.
Storage replication involves the recording of transactions to be sent to a third-party (SAP certified) storage solution provider, where they are stored remotely outside of where your SAP S/4HANA system runs.
Here's a side-by-side visual of how these two methods work: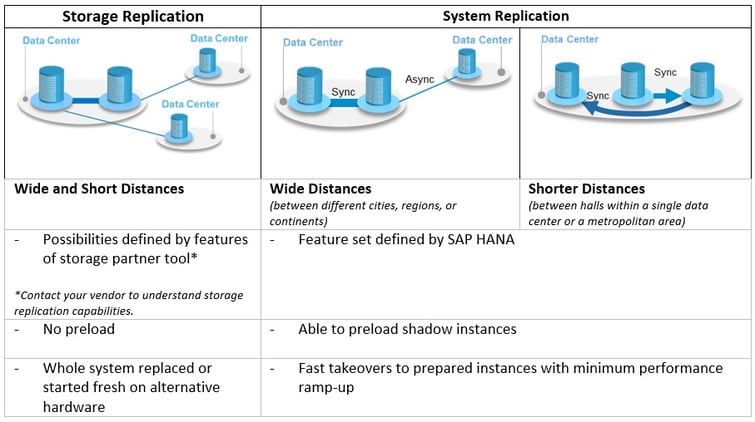 Backups
Using backups as a SAP disaster recovery solution works when your recovery time objective is a bit longer — ideally more than 15 or 20 minutes. It involves both automatic log updates as well as manually scheduled data savepoints, which both save from memory to disk for later access in case of a disaster event.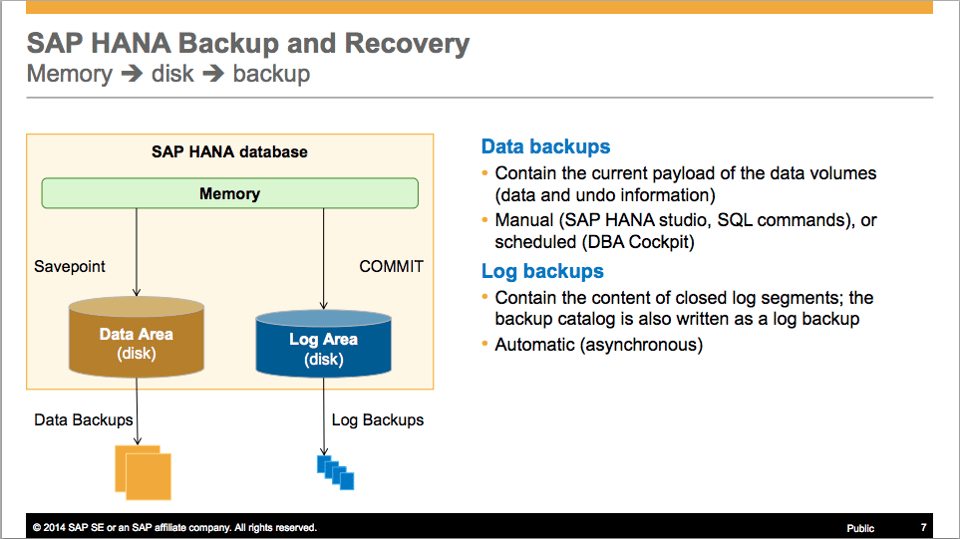 How do you choose the right SAP disaster recovery solution?
There are two key parts to choosing the right SAP disaster recovery solution. The first is to consider your unique organizational needs. The second is to consider industry-best standards and practices to look for when evaluating providers.
Identifying unique SAP disaster recovery needs
There are a few important factors that contribute to your needs profile when it comes to DR solutions providers. First is the environment your systems operate in (on-premise vs. cloud vs. hybrid vs. multicloud, etc.). Next are two key metrics:
Recovery point objective (RPO) - maximum amount of data that can be lost without experiencing significant disruption or other negative impact
Recovery time objective (RTO) - maximum length of time that can pass before your system resumes normal operations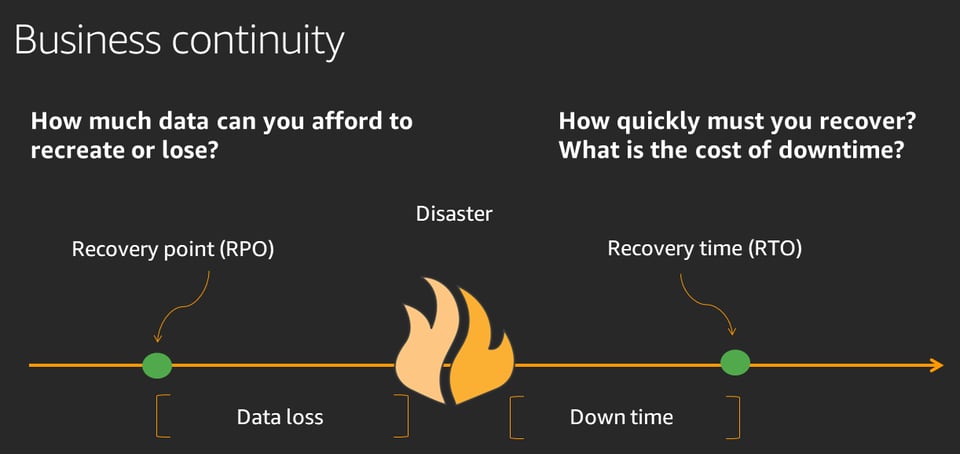 Knowing and outlining these factors for your organization can help you begin to narrow down your solution search to those with features and services that deliver what you need.
Industry-best standards for SAP disaster recovery solutions
What can you expect from a top SAP disaster recovery solution? Below are some important features to look out for:
Commitment to RTO and RPO objectives
What is the potential provider's track record with meeting RTO and RPO for their clients? Do they have limitations or standards of their own?
Disaster recovery solution customization
Does the provider offer options for customized strategy and solution building? What is their process for client onboarding and needs assessment?
Compatible vendors
What on-premise or cloud services providers does the provider have experience with? Can their solutions be integrated successfully on the platforms you're already using?
Proven track record
How has the provider's solution succeeded in real disaster scenarios? Customer success stories, case studies, and industry-best lists (provided by companies like G2) can give you insight into how solutions have held up under pressure.
SAP certification
Is the provider SAP certified? SAP certification is a demonstration of SAP expertise and is a globally-recognized standard for SAP partners.
Automated Disaster Recovery Testing: Innovate to Simplify
With the goal of simplifying the complexities of performing DR testing for SAP applications, the Protera team recently created an automated, low-touch, cloud-native solution to achieve aggressive RPO/RTO for a client in the oil and gas industry.
This solution uses automated runbooks enabling the client to initiate failover to perform isolated disaster recovery testing. A series of actions are performed on each group of applications that start each application in the correct order and also ensure that the application is running.
With an automated approach to disaster recovery, businesses can rest easy knowing that they are protected.
Explore Protera's Disaster Recovery Solutions
Protera's comprehensive cloud-based SAP disaster recovery solutions are secure, affordable, innovative and delivered as-a-service. We work with each client to define their individual needs and potential loss scenarios, review existing disaster recovery plans, and identify protection gaps.
Contact us today to learn more about this and other services Protera provides as a leading SAP cloud management partner.