5 Top Cloud Technologies to Adopt in 2023
There's no doubt about it: The cloud is the future of business. Gartner predicts that by 2025, 85% of organizations will operate with cloud-first principles and 91% of new workloads will be cloud native.
The question for enterprises then becomes not whether they'll use the cloud at all, but how well they can maximize the potential of their cloud investments. After all, the cloud isn't a single data-storing technology — it comes with a plethora of new and innovative capabilities, features, products, and services you can leverage to further strategic goals.
In this article, we'll explore 5 trending cloud technologies you should consider adopting in 2023 to optimize your customer experience and position your business ahead of the competition.
Quick Takeaways
Virtual cloud desktops enable companies to monitor work activity and employees to operate the same as if they were physically on location.
Almost every business is seeing the need for AI and machine learning, but only about a third are currently using it strategically. Companies who adopt it in 2023 are set to gain a significant competitive advantage.
Multi-cloud services prevent vendor lock-in and allow companies to optimize costs for services and resources across providers.
Low-code/no-code platforms free up IT team bandwidth and encourage innovation from non-IT employees.
Edge computing localizes IoT data analysis for faster insight, lower latency, and shorter wait times for end users.
5 Top Cloud Technologies to Adopt in 2023
Virtual cloud desktops
Remote work is here to stay for most companies in some capacity — at least if they want to hold onto their best employees.
According to a 2022 survey of 2000+ remote employees, if their companies took the remote work option away, 66% would start looking for a new job, and nearly 40% would simply quit. It's a percentage that will likely only increase in the future.
Virtual cloud desktops provide a way for employees to offer (at least partially) remote work options while also alleviating some of the concerns they have about it — particularly related to employee monitoring and productivity.
Even for organizations who confidently operate remote workspaces, virtual cloud desktops can provide opportunities to enhance performance.
The technology, also often referred to as desktop-as-a-service (DaaS), allows companies to send their entire desktop operating system and applications to a remote device being used by the employee. It eliminates access barriers between on-location and remote workspaces, allowing employees to meet their daily responsibilities no matter where they're actually located.
If demand is any indicator, virtual desktops will see a huge increase in prevalence at companies across industries in coming years — the market size is expected to grow from its $12.3B value in 2022 to $20.1B in 2027, with a CAGR of 10.3%.

Artificial intelligence and machine learning
Artificial intelligence may not be exclusive to the cloud — in fact, it's been around much longer — but the cloud is what allows modern enterprises to use AI and machine learning to their full potential to add business value.
From data analytics to continuous improvement initiatives to optimizing the customer and end user experiences, cloud-based AI is transforming the way companies are able to deliver quality products and services.
Recent research by IBM found that 35% of companies are currently using AI and an additional 42% are exploring the possibility, suggesting organizations still have an opportunity to be early adopters and gain a competitive advantage from leveraging these technologies.
As you can see below in the graphic from the same IBM report, there are numerous use cases for AI and they're still expanding.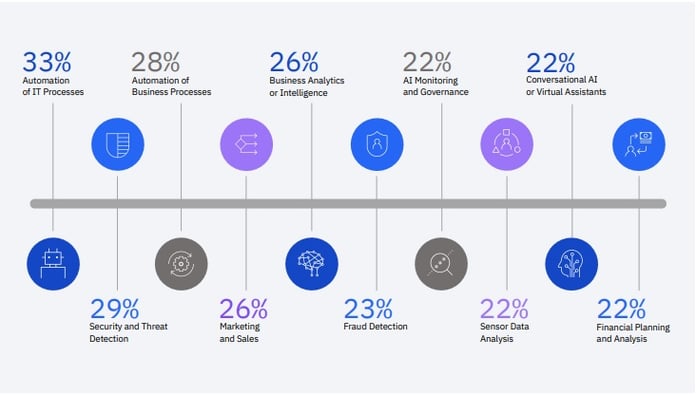 Multi-cloud services
Many companies have begun to see the value in utilizing multiple cloud providers to meet their business needs — or, in other words, implementing a multi-cloud strategy. Just like any product or service provider, cloud hyperscalers have competitive strengths and weaknesses across their pricing models, resources, and capabilities.
Using multiple cloud provider platforms allows you to optimize costs across their offerings while protecting your business from vendor lock-in, which can compromise your business should your single cloud provider experience failure in some capacity.
If you haven't already, the time to consider multi-cloud is now — 90% of modern enterprises are already doing it in some capacity.
Low-code/no-code cloud services
Low-code and no-code cloud platforms provide highly visual, user-friendly interfaces that allow non-IT employees to develop applications with little to no formal coding experience.
While many traditionally trained IT employees initially gave a collective scoff to the growing idea of "citizen developers," there's no denying the benefits it can bring as low-code and no-code technology evolves and improves.
For one, it frees up bandwidth for your IT team — they'll no longer have to address every small request for a new application, feature, or capability. Second, and perhaps even more importantly, it encourages a culture of autonomous problem solving and innovation across your organization.
The low-code/no-code development platform market size is expected to grow at an impressive 19% CAGR from now until 2030.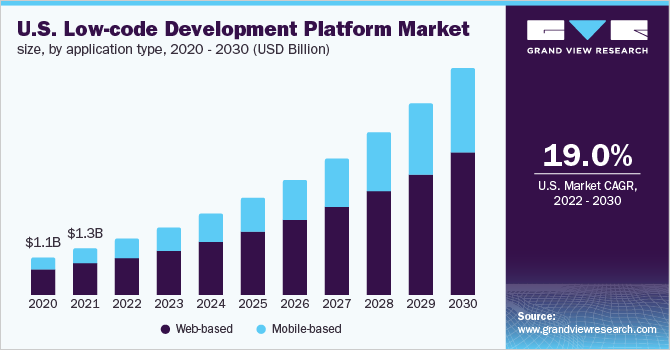 Edge computing
Edge computing uses distributed computing frameworks to bring applications as close to their data sources as possible, analyzing data on servers located nearest to its origin. The need for edge computing has increased significantly in recent years along with the rise of IoT devices and subsequent massive jump in the sheer volume of user data needing to be processed.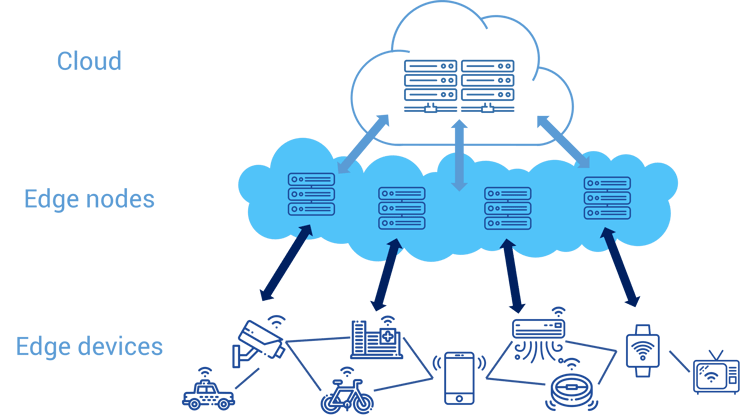 Adopting edge computing capabilities has a number of business benefits including reduced latency, quicker response times, and an elevated user experience.
Its use across industries has a wide range of impact — it can be the difference, for example, between a fast enough response time from a life-saving IoT wearable tech device. In another case, it could simply cut user wait times and make life more convenient for them.
For companies, however, the impact is always significant: Edge computing delivers real-time insights that allow for greater harnessing of data to implement predictive analytics and make decisions that drive business value.
The Bottom Line
Cloud computing is no longer simply about migrating your workloads to the cloud to increase capacity. Unless you're thinking about how you can leverage cloud technologies to further your strategic goals and grow your enterprise, you're likely falling behind competitors who are.
The cloud enables the type of agile, innovative, and data-driven organization that business demands of the future will require.
Protera helps SAP users maximize ROI from running SAP in the cloud with our comprehensive Cloud Modernization and Managed Services. To learn more about our solutions and how we can help you transform, schedule your demo today.