Your Guide to Executing an SAP Upgrade
Periodic SAP upgrades ensure you continually achieve the highest possible ROI from your SAP investment. Upgrades are conducted to update technical capabilities, improve functionality, and enhance the overall strategy for leveraging SAP products and services to succeed.
Over time, SAP upgrades make your organization more innovative, agile, and responsive to changing business environments and demands.
In the sections that follow, we'll walk through SAP upgrade approaches in more detail, including their execution steps and how an SAP service provider can help guide you through them.
Quick Takeaways
SAP upgrades can be conducted for technical, functional, and strategic reasons.
The ROI on your SAP upgrade project increases with the level of strategic purpose behind it.
Most SAP upgrade projects involve a custom combination of technical and functional elements to meet unique business needs.
Trusted SAP service providers like Protera can help you execute SAP upgrades with confidence.
What is an SAP upgrade?
SAP upgrades are conducted to update SAP systems and products to their latest released versions. Companies perform SAP upgrades periodically to ensure they're achieving the highest levels of business functionality and performance in order to meet changing market demands.
SAP upgrades often align with releases of new product versions and enhancement packages from SAP themselves. But they can also be driven by an organization's need for new or more strategic approaches to business functions and better use of SAP resources to achieve their business objectives.
The SAP Software Update Manager is a comprehensive tool offered by SAP that guides users through upgrades in several scenarios or use cases, including:
Updating to newly-released product versions
Installing Enhancement Packages to improve existing applications
Apply Support Package stacks and Java patches
Conduct a full system conversion from SAP ERP to SAP S/4HANA
Feature Pack Stack (FPS) or release upgrade from S/4 HANA (older release) to newer release
In addition, SAP's Product Availability Matrix (interface pictured below) is available through the S-user portal. The Matrix provides information about available product versions, maintenance durations, upgrade paths and more.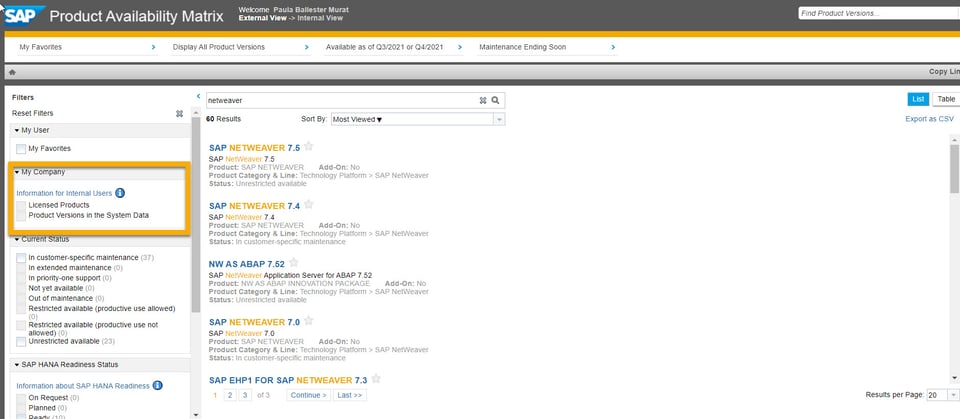 In cases where an SAP upgrade has a significant impact on business functionality and strategy, many companies pursue additional support in the form of a third-party SAP partner (like Protera). Working with an SAP partner with the experience, expertise, and resources to guide you through upgrade processes ensures you achieve optimal ROI from your SAP systems without experiencing disruption to business operations.
SAP Upgrade Approaches
SAP outlines three main types of SAP upgrades: technical, functional, and strategic. Different motivations for performing an SAP upgrade will determine the best approach as well as the ROI on the project.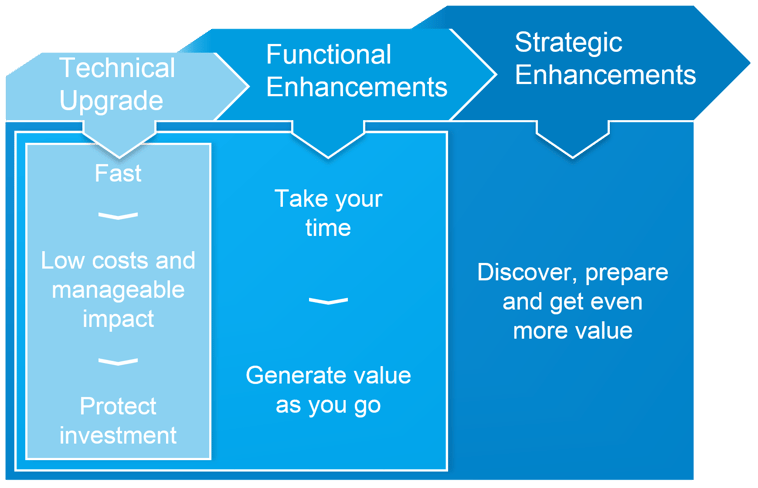 Let's explore each approach in greater detail.
Technical upgrade approach
Technical upgrades retain current functionality and are conducted purely to update to new product or system versions. Pure technical upgrades may be conducted to maintain necessary infrastructure and/or because particular released versions are only supported by SAP (as with any vendor) for a certain period of time.
Technical SAP upgrades happen in 6 steps:
System preparation - Latest version is installed and all general patches have been applied.
SPDD phase - All objects and elements are compared between the old system and new one.
Upgrade - The actual upgrade is executed and the new system replaces the old one.
SPAU phase - Repository objects (programs, screens, interfaces, etc.) are overwritten with new adjustments from the new system.
Testing - Critical processes are tested to maintain business continuity after the upgrade.
Z-Program adjustments - Custom modifications using old SAP modules and elements must be checked and updated.
Functional enhancements approach
The functional enhancements approach to SAP upgrades centers around SAP Enhancement Packages, released to enable continuous improvement and innovation around existing applications without requiring the downtime and other business disruptions associated with a larger upgrade.
As the name suggests, functional upgrades often bring new functionality to applications that improve business processes and optimize SAP utilization.
Strategic enhancements approach
In practice, SAP upgrades often include a combination of technical and functional elements to enhance a company's overall capabilities and performance. Generally, these more custom and strategic approaches to SAP upgrade will boost the ROI on the project.
As demonstrated in the visual below, technical upgrades yield benefits like cost reduction, while more complex functional and strategic upgrade approaches bring bigger opportunities for revenue enhancement and provide new capabilities that have transformative long-term impact.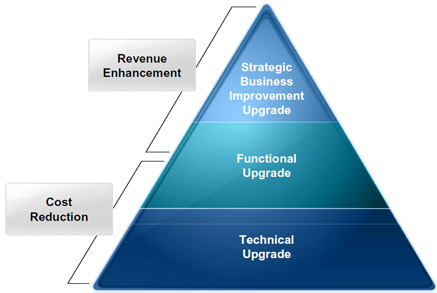 Strategic SAP upgrades often have high levels of complexity and many moving parts. SAP's Transformation Navigator can help you manage them effectively by creating a customized upgrade plan. In addition, many companies choose to work with a third-party SAP service provider that can guide them through the upgrade process.
Business Impacts of SAP Upgrades / Application Change-Freeze During SAP Upgrades
SAP Upgrades may impact ongoing business operations in terms of managing application changes during the course of an SAP Upgrade project. During an upgrade cycle, the transporting of SAP application configuration changes through the same landscape will not be supported for part of the SAP System landscape such as Non-Production systems like Sandbox/Training Systems, Development System, Quality System etc.
In order to minimize this change-freeze time window and allow the business application management team to test the upgraded application throughout the landscape (Development, Quality/Test systems), organizations can leverage an N+1 landscape strategy and use public cloud platforms to overcome challenges around IT infrastructure requirements for SAP deployments. Learn more about leveraging this N+1 landscape strategy by contacting our team.
Conducting an SAP Upgrade with Protera
Working with a trusted, experienced partner on your SAP upgrade allows you to execute with confidence. Protera delivers SAP upgrades through a managed services model that helps you operate, improve, and optimize your systems to achieve high levels of agility and organizational innovation.
Protera provides:
Technical management of your SAP-related applications, including basis support, database, OS, security, patching, and performance.
Extensive automation and services to support projects and upgrades.
Data insights that help you measure performance using real-time visualizations and automated analytics
Protera can also guide you through cloud migration and SAP modernization processes, including adoption of SAP S/4HANA.
Whether SAP migration, SAP HANA upgrades, S/4HANA transformation or full data center modernization, Protera has experience in migrating and modernizing even the most complex enterprise systems with a focus on measured business outcomes.
Learn more here about Protera's SAP Managed Services.
Contact Protera today to migrate, manage, and upgrade your SAP-related applications.