Avoiding Data Breach with Automated Disaster Recovery
No matter what your industry or type of business, security breaches and cyberattacks are a risk you're faced with across your IT infrastructure — and they're steadily on the rise.
Verizon's most recent Data Breach Investigations Report (DBIR) found that ransomware attacks jumped by 25% between 2017 and 2021, and separate research found that the number of data breach instances increased by an alarming 70% between the first and second half of 2022.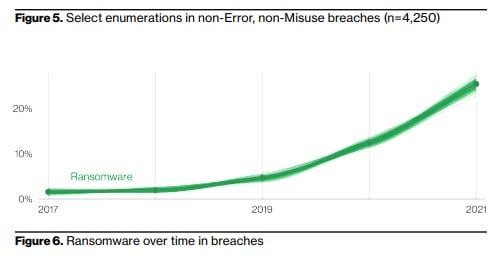 In the case that a breach does occur, companies need a way to act fast — instantaneously, even — to avoid serious consequences like downtime, financial loss, and even human safety concerns. In this article, we'll discuss why automated disaster recovery (DR) testing is the best solution to mitigate this risk, tips for implementing it, and ways Protera can help.
Quick Takeaways
Data breaches cost companies $4M on average worldwide and $9M on average in the United States.
Other adverse impacts of cyber threats include damaged brand reputation, downtime, financial loss, and compromised stakeholder trust.
Today, disaster recovery strategies need to be coordinated and integrated across the entire IT organization.
Automation streamlines the DR process to make it ongoing, proactive, and intelligently responsive.
Automated DR technology can now upstack in line with many budget levels, compliance objectives, and RPO/RTO standards.
The Reality of Cybersecurity Risk
Data breaches cost organizations millions of dollars — $4.35M on average worldwide, and more than double that in the United States. They also negatively impact brand reputation and fracture trust with customers.

Further, data breaches compromise the safety of your employees, customers, and partners, by risking that their personal data could be made public, or worse, used for fraudulent purposes.
We recently saw a high-profile, real-world instance of this final when an Amazon S3 bucket was breached and personal identification information (PII) from airline employees in four airports in South America was made public. This is only one example — hundreds of high-profile breaches have impacted even the most well-run companies over the years.
What this tells us is that there is no way to stop data breaches from happening entirely. Even as IT security technology advances, cyber adversaries and their ransomware are getting smarter and more sophisticated. Companies can never assume that an attack or beach won't happen to them, and they need an immediate-response DR strategy in place in case it does.
The Need for Coordinated Efforts
Disaster recovery can't happen in silos. Today's IT infrastructures are heavily integrated and involve complex dependencies. Attempting to implement point solutions separately across your infrastructure is not only inefficient but puts your organization at greater risk.
What you need instead is a coordinated approach with solutions that communicate and can act as an organization-wide failover if a breach should occur. Rather than just another check box in your security strategy, disaster recovery testing should be ongoing and heavily integrated.
But executing this type of strategy would be impossible to do manually. DR automation is the most effective, reliable, and intelligent way to keep your organization responsive and ready for unpredictable adverse security events.
Automated Disaster Recovery Testing: Why It's Essential
Cyber threats are unpredictable and vary widely in nature. To identify and mitigate the risk they present, your disaster recovery strategy needs to be proactive and highly responsive. In other words: The old tricks of the trade — periodic check-ins and reactive approaches — aren't enough in today's ever-evolving cyber-war landscape.
Automated disaster recovery testing continuously monitors risk factors and looks for changes that indicate a potential threat. It streamlines testing and validation to limit its impact on users and minimize business disruption.
Most importantly, it gives you a clearer understanding of how your organization will be able to respond in the event of various cyber breaches and adverse events — including malicious attacks, user errors, natural disasters and more.
Rather than making extensive plans for recovery to execute after an event occurs, you can continually assess your current landscape and your internal response capabilities, optimizing them proactively to stay prepared.
Your DR technology then provides constant support for your IT team to lead an informed strategy — a unified framework, actionable insights, and greater predictability and assurance all around.
DR Automation Builds Stakeholder Confidence
There's more at stake when it comes to cyber threats than data security. When a threat occurs, your stakeholders — employees, partners, and customers — won't want lengthy explanations or excuses about why the breach occurred and when things will be resolved.
What they'll want is to know that everything will be alright, and an automated DR strategy will give you the ability to answer with confidence. Not only will you have already been able to start taking action, but you'll be able to outline the clear path and timeline to full recovery.
Fortune 500 companies are already embracing automated DR approaches as testing regularly without impacting operations already comes somewhat second nature to them. Fortunately for organizations of every size and industry, automated DR technology is now able to up-stack in accordance with varied budgets, compliance objectives, and RPO/RTO standards.
How Protera Can Help
The benefits of DR automation are undeniable — it makes testing, validation, and streamlined, repeatable processes the norm. What better time than the present to automate your company's safety against the threats surrounding your business every day?
At Protera, we're well ahead of this curve and eager to help enterprises gain the advantages of automated DR that we've seen take effect within our own organization and those of our clients.
Want to learn more about how we can help you transform? Get in touch with us today.