Application Managed Services | Protera
Unlocking the full potential of applications while navigating the complexities of IT management in 2023 has become a critical challenge for organizations.
With the proliferation of applications, hybrid- and multi-cloud environments, and the demand for digital transformation, effective application management is essential. Application managed services (AMS) offer solutions rooted in industry experience, expertise, and best practices that are proven to deliver results.
So—Is selecting an AMS provider the right path for your business?
In this article, we'll deep-dive into the benefits of application managed services, what they entail, and why Protera is a top choice for SAP organizations looking to maximize the strategic business value of their application environments.
Quick Takeaways
Large enterprises now operate hundreds or even thousands of applications.
The cloud is becoming a central part of application management and

modernization

. Most companies now operate in hybrid or multi cloud environments.
Benefits of application managed services include cost savings, deep expertise, improved application performance, enhanced security and compliance, and scalability.
Outsourcing to an AMS provider allows internal IT teams to focus on other strategic priorities that drive innovation and growth.
The State of Application Management in 2023
Over the past few years, the rise of the cloud, demand for digital transformation, and upending of business IT requirements during the pandemic have acted as a perfect storm of events, making IT management more complex than ever before.
Applications are at the center of this complexity. Today, large enterprises have an average of 650 applications. For the largest 10%, that number jumps to 3,400. Hybrid- and multi-cloud environments add an extra level of complication—85% of organizations now operate application architecture and locations.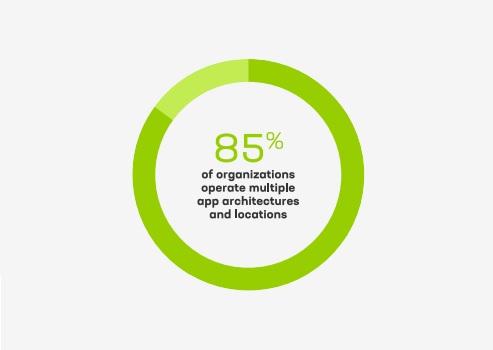 IT leaders and professionals are feeling the pressure of handling application management with internal resources alone. When asked about the challenges they face deploying applications in cloud environments, the list was extensive, and included:
Managing multiple tools and APIs (39%)
Applying consistent security policies (36%)
Optimizing app performance (36%)
Determining the most cost-efficient cloud (35%)
Migrating applications (34%)
These are just some of the 10+ examples cited on the list. To manage these challenges effectively and implement an application management strategy that powers results, many organizations are turning to trusted application managed service providers for support.
What Are Application Managed Services?
Application Managed Services (AMS) are the provision of comprehensive services around app maintenance, monitoring, enhancement, and optimization across all IT environments. They enable organizations to put a cohesive and intentional strategy behind their software stack and leverage it to further business initiatives.
AMS providers apply industry best practices, expertise, and top technologies to application management while tailoring solutions and services to the needs of each client. Specific services typically include:
Cost Savings
By outsourcing to an application managed services provider, companies save on overhead costs related to internal IT bandwidth and technology tools. They can continually leverage the expertise and economies of scale offered by AMS providers, and achieve operational efficiencies that drive down costs in significant ways over time.
Deep Expertise and Knowledge
AMS providers often have a diverse team of experts with deep knowledge of technology tools, platforms, and application environments. Applications can be managed more effectively by teams familiar with IT best practices and trends, who can resolve issues faster and drive better overall performance.
Improved Application Performance
AMS providers focus on proactive monitoring and performance tuning to ensure applications always operate at optimal levels. They can identify and address bottlenecks, optimize resource allocation, and implement best practices to enhance the app performance in an ongoing way.
Enhanced Security and Compliance
Security and compliance oversight are simultaneously more critical and more complex than they've ever been. Data privacy and security regulations coupled with an increased risk of attack from cyber adversaries mean that organizations need an active application security strategy (vs. the set-it-and-forget-it type of approach that may have worked in the past).
AMS providers prioritize security measures and compliance requirements in an ongoing way, ensuring that applications are protected against potential threats and adhere to industry regulations. This includes regular security audits, patch management, and implementation of robust security controls.
Scalability and Flexibility
AMS providers can easily scale resources up or down based on the client's changing needs. This flexibility allows organizations to align application managed services with their business growth and adjust support levels as required—all while optimizing costs at every turn.
Focus on Core Competencies
Offloading application managed services and support tasks to AMS providers allows internal IT teams to refocus on core business activities, empowering them to be innovative and think more strategically about how IT can be a strategic asset to drive growth and competitive advantage.
Why Choose Protera Application Managed Services?
Protera has been empowering clients to maximize value from their SAP systems and pioneering enterprise application management for 25 years.
As the cloud becomes an increasingly central part of how businesses run applications, Protera is supporting users' digital transformation journeys to migrate and modernize in top cloud environments, including AWS, Azure, and Google Cloud. Our managed services focuses on three key areas:
Operations — We provide technical management of your SAP and related applications, including basis support, database, OS, security, patching, and performance.


Improvement — We support your agile development projects with automations, self-service, and project support to help you improve your business.


Optimization — We continually improve your performance, reduce your costs, and provide insights to help you optimize how you run.
Our team of experts ensures your enterprise systems are available, secure, responsive, and optimized for cost and efficiency. We engage closely with your internal IT team so you have a complete understanding of everything from application performance to cloud bill details.
Organizations choose Protera to:
Migrate applications at up to 3X the speed and 30%-50% cost reduction
Reduce risk across their application environments
Work with specialists who have 10+ years of SAP experience and deep SAP expertise
Maintain KPI visibility around application performance and availability
Use integrated ticket management to resolve issues quickly

Our client success stories span industries, company sizes, and types of SAP cloud journeys. To explore how Protera can help you transform your application management strategy, talk to an expert today.